---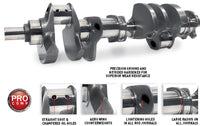 CALL SHANON AT 507 445 3235 WITH ANY QUESTIONS.
*SBC CRANK IN PICTURE IS ONLY FOR ILLUSTRATING FEATURES.
*THESE CRANKS ARE SPECIALLY DESIGNED FOR 12" DECK ELIMINATOR OR 11.7 DECK CNC MOTORSPORTS BLOCKS - WILL NOT WORK IN OTHERS.
FORD billet EN30B Lightweight (same material used in top fuel/funny car)
Pro Comp Crankshafts
Perfect for engines wanting quicker rpm's, SCAT's Pro Comp cranks have profiled counterweights for less weight and reduced windage . . 
• Designed and engineered by SCAT in California
• Inspected & micropolished at SCAT in California
• Straight shot & chamfered oil holes
• Nitride hardened for superior wear resistance
• Lightening holes in all rod throws
• Large radius on all journals for increased strength 
• Precision ground, heat treated & shot peened
 2.2" big block Chevy rod journals

 3.0" big block Ford main journals
5" 4340 FOR 7.3" RODS ALSO READY TO SHIP.
LET US KNOW WHICH ONE YOU NEED.
SHIPS IN THE LOWER 48 STATES FREE!
CALL SHANON AT 507 445 3235 WITH ANY QUESTIONS.
CONTACT US - THE PRICE IS NEGOTIABLE - BEST OFFER
Warning: May cause cancer and reproductive harm.