---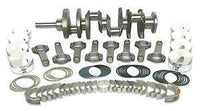 CALL SHANON AT 507 445 3235 WITH ANY QUESTIONS.
This is a SCAT 545 BIG BLOCK FORD Rotating Assembly and comes complete with 4.500 stroke SCAT 9000 cast steel crankshaft, Forged I Beam 7/16 cap Screw Rods, Forged -38cc Dish Pistons, Rings, Rod & Main, Bearings, Flexplate, Balancer, Externally Balanced by Scat (available for Kaase SCJ heads same price)
*Comes with I beam rods, and dish pistons - Not H beam rods and flat top pistons in picture.
THIS ASSEMBLY IS BALANCED.
SCAT CRANKS AND RODS ARE SUPERIOR TO EAGLE. WE HAVE USED BOTH IN OUR ENGINES AND SCAT IS STRONGER PERIOD!
Crank Stroke: 4.500
Rod length: 6.700
Pistons: Flat Top 4.390 BORE For 545 CI
OTHER PISTON SIZES AVAILABLE ON REQUEST.

WE STOCK OLIVER BILLET RODS ALSO.
Compression: 10.1 with 74cc heads
                           9.7 with 80cc heads
                           8.8 with 94cc heads
Displacement with 4.390 bore pistons is 545 Cubic Inches.
Will ship anywhere in the lower 48 states for $83.45.
We also stock 

CUSTOM BILLET STEEL CRANKS UP TO 5.750 STROKE

 and WE do custom pistons. CUSTOM GRIND CAMS IS OUR SPECIALTY TO MATCH YOUR ENGINE COMBINATION!
If you don't see what your looking for - give us a call. We handle the complete Scat line ALONG with most of the other popular brands. We will list on ebay.
FORD ELIMINATOR BLOCKS IN STOCK!
WE CAN BEAT ANY PRICE ON SCAT
CALL SHANON AT 507 445 3235 WITH ANY QUESTIONS.
CONTACT US THE PRICE IS NEGOTIABLE BEST OFFER
eb50159-1
Warning: May cause cancer and reproductive harm.