---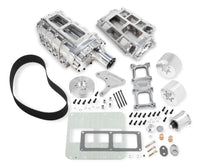 CALL SHANON AT 507 445 3235 WITH ANY QUESTIONS.
7587P

A true blast form the past. These highly sought after superchargers have been unavailable for years. Weiand is proud to reintroduce them. The case of the 6-71 and 8-71 superchargers have been redesigned for a nostalgic look that will look at home on a cacklefest dragster as well as a new high end build.

HORSEPOWER! - Weiand's 6-71 kits are the ultimate statement of power and looks. Pull into the local cruise-in or dragstrip with one of these sticking through the hood and you will get noticed. They're not for the meek however - these supercharger kits are designed to generate 50%+ more horsepower and torque across the rpm range!

Weiand's 6-71 blower kits are equipped with exclusive two lobe rotors for maximum boost at lower RPMs. All feature a new case, end-plates, manifold and snout. Billet belt tensioner components and V-belt pulleys round out the package to give you everything necessary for installation. Kits are engineered to produce 10-12 lbs of boost on small blocks and 5-7 lbs of boost on big blocks but are a simple pulley change away from pump gas or hard core racing.

The 7587 kits fearture he extra tough 8mm (two piece billet snout) belt systems for durability while on the street or water.

All superchargers are built in Weiand's state-of-the-art manufacturing cell and each supercharger is 100% boost tested to help you squeeze out maximum power and efficiency.
Features:
Long Nose
3" Gilmer Drive Belt
11.5% Underdriven Drive Ratio w/ Included Pulley Set
Polished
Instant, full-time power every time you hit the throttle
Substantially increases torque

Blower Size 6-71
Brand Weiand
Emission Code 3
Engine Chevy Small Block V8
Finish Polished
Product Type Supercharger
Supercharger Drive Pulley 8MM

*NOT compatible w/ Mercruiser, OMC or Volvo Penta accessory drives and requires short water pump and 2 "V" pulley.

Weiand does not recommend using a supercharger with a Gilmer toothed belt and pop-off valve in an enclosed engine compartment. There is a high risk of explosion in the event of a backfire.

6-71 superchargers are perfectly suited for engines with 7.5:1 to 8:1 compression ratios but may require race gas unless pulley ratios are altered to reduce effective compression ratio below 12:1.

Weiand recommends that all kits use double keyed crankshaft and double keyed, steel, SFI approved balancer.

Kits include manifold, blower assembly, drive snout, pulleys, belt and hardware.

Due to the wide variety of installation possibilities, it may be necessary to consult with a Weiand Supercharger Technical Rep at 270-781-9741 for assistance in selecting the proper kit for your application.
SHIPS FREE IN ALL 50 STATES!
CALL SHANON AT 507 445 3235 WITH ANY QUESTIONS.
C

O

N

T

A

C

T

U

S

-

T

H

E

P

R

I

C

E

I

S

N

E

G

O

T

I

A

B

L

E

-

B

E

S

T

O

F

F

E

R
Warning: May cause cancer and reproductive harm.