---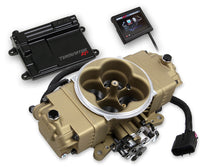 CALL SHANON AT 507 445 3235 WITH ANY QUESTIONS.
WE SELL EVERYTHING HOLLEY. LET US KNOW WHAT PART NUMBER YOU NEED!
Have been hesitant on switching to EFI because you like the traditional look of a carburetor? There is no more need to worry! Holley has you covered with the new Terminator Stealth Throttle Body Fuel injection System. Now you can have all of the benefits of EFI and maintain the traditional looks of a carburetor. Holley's Terminator Stealth EFI systems have the same great self-tuning features of our Terminator EFI in a new stealthy package!
- Easy to install
- No computer experience required
- Handheld tuner included
- Simple multiple choice set-up wizard
- Self-tunes while you drive
- Upgradable to complete laptop control without buying another ECU
- Carburetor replacement EFI from the fuel systems experts!
Features:
Carburetor looks with the drivability of EFI
Trouble-free performance with today's fuels - put an end to vapor lock and fuel varnish problems!
Fits V8 engines from 250-600 horsepower
4150 style 4BBL mounting flange - Bolts on in place of carburetor
Available in Polished, Classic Gold and Hard Core Gray™ finishes. A classic carburetor finish coming soon!
Fully self-tuning ECU - No laptop required
Includes full color, 3.5" touch screen LCD for both basic and advanced tuning options
Timing control option for GM Small Cap HEI and Ford TFI distributors
Connections for Ford, GM TH350, 700R4 and other transmission linkages
Optional free software upgrade for full laptop control
Easy plug and play harnesses with minimal connections
Virtually maintenance free - keeps your vehicle reliable and ready to drive
Master Kits include complete fuel system: fuel pump, filters, 40ft of hose (feed and return), billet regulatro and all fittings including fuel tank return line bulkhead fitting

Brand Holley EFI
CFM 950
Emission Code 3
Finish Polished
Flange Size 4150
Fuel Pressure 43 Psi
Height 3.25"
Injector Size 80Lb/Hr @ 43PSI
Product Type Stealth Terminator Kit
Throttle Bore 1.750 inch
Part Number 550-444K
SHIPS IN THE LOWER 48 STATES FREE!
CALL S

HANON AT 507 445 3235 WITH ANY QUESTIONS.
C

O

N

T

A

C

T

U

S

 

T

H

E

P

R

I

C

E

I

S

N

E

G

O

T

I

A

B

L

E

 

B

E

S

T

O

F

F

E

R
Warning: May cause cancer and reproductive harm.