---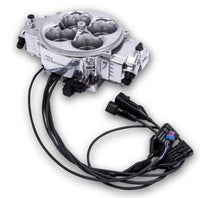 CALL SHANON AT 507 445 3235 WITH ANY QUESTIONS.
WE SELL EVERYTHING HOLLEY. LET US KNOW WHAT PART NUMBER YOU NEED!
550-841
Introducing the Sniper Stealth 4500 EFI System! Wanting to convert your Dragster or Pro-street vehicle to Fuel Injection? Look no further! The Sniper Stealth 4500 EFI system from Holley features 8, 100LB/HR Fuel Injectors capable of supporting 800 to 1500 HP naturally aspirated, or 800-1250 HP on forced induction applications. The Sniper Stealth 4500 also features multiple Input and Output options for sensor inputs and switched outputs to control external relays. This system also comes with a USB to CAN tuning cable and free downloadable Sniper EFI Software give you unlimited control of your engine
Supports up to 1500 HP Naturally Aspirated or 1250 HP Forced Induction with Eight 100 Lb/Hr Injectors
Compatible with Draw through or Blow through forced induction applications
2.125" Throttle Plates, Flow 1440 CFM for large cubic inch engines
2.5Bar MAP Sensor
Integrated ignition timing control
Programmable launch control via 2-step and timing retard. Both can be triggered by a trans-brake input
Gen 3 Ultra Dominator Style 4 Bolt Air Cleaner Flange
-8AN Fuel Inlets
High Resolution Full Color Touchscreen for Initial Setup, Tuning, and Gauge Displays
Simple Calibration Wizard (Answer a few questions about your engine and it creates the base map, then starts tuning on its own!) - NO laptop required
Self-tuning ECU means you don't have to be a computer/tuning wiz to have EFI!
The included Genuine Bosch LSU 4.9 Wideband Oxygen Sensor provides realtime Fuel Map Learn
Built-in Single Stage Wet or Dry progressive nitrous control
Three Programmable 0-5V Sensor Inputs for Oil/Fuel/Dome or Nitrous Pressure or other critical information
Six Programmable Ground Outputs, Five programmable ground inputs. These can be used to trigger or control external devices such as nitrous solenoids, boost control solenoids. Or to provide the ECU with an Input to turn on function such as an ignition timi
One +5v Reference Output - +5V Power Supply for 0-5v Sensors, One Sensor Ground – Ground supply for 0-5v Sensors
Throttle body mounted ECU – no extra boxes to mount
Only 4 Wiring Connections Required! (Battery +, Battery - , Switched Ignition & RPM)
Required external fuel pressure regulator, 12-848 is recommended
Customizable secondary fuel pump output (TPS, RPM or Boost enabled)
User friendly Boost Control with handheld adjustability
Free Software included comprehensive datalogging tool to help you maximize the performance of your engine
Real-time datalogging to the included 3.5" Touch Screen, allows you to save information to the SD card without needing a communication cable
Programmable Target Air Fuel Ratios per Boost level
Advanced boost control available via free Sniper EFI tuning software, including Boost vs RPM and Boost vs Time
OEM Style TPS/IAC, for years of dependable service
Included clamp-on oxygen sensor kit ensures a leak free oxygen sensor installation, with Stainless Steel T-Bolt clamps and a Stainless Steel (Weldable) oxygen sensor flange
Patent Pending
| | |
| --- | --- |
| weight | 16 |
| length | 25 |
| width | 6.5 |
| height | 13 |
| Brand | Sniper EFI |
| CFM | 1440 |
| Emission Code | 3 |
| Finish | Shiny |
| Flange Size | 4500 |
| Fuel Pressure | 58.5 PSI |
| Height | 3.85" |
| Injector Size | 100 lb/hr @ 58.5 PSI |
| Inlet / Outlet Size | 8AN |
| MAP Sensor | 2.5Bar |
| Max Horsepower Rating | 1250 Forced Induction |
| Product Type | Sniper EFI Stealth 4500 |
| Throttle Bore | 2.125 inch |
SHIPS IN THE LOWER 48 STATES FREE!
CALL S

HANON AT 507 445 3235 WITH ANY QUESTIONS.
C

O

N

T

A

C

T

U

S

 

T

H

E

P

R

I

C

E

I

S

N

E

G

O

T

I

A

B

L

E

 

B

E

S

T

O

F

F

E

R
Warning: May cause cancer and reproductive harm.