---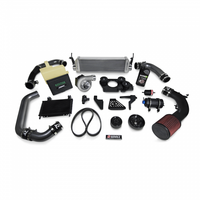 CALL SHANON AT 507 445 3235 WITH ANY QUESTIONS.
150-12-3306B
Kraftwerks Performance is pleased to announce that our upgraded supercharger kit for the Subaru BRZ, Scion FR-S, and Toyota FT86 is now available!
Kraftwerks Performance has taken the core components of the extremely popular Race Supercharger Kit and added redesigned supercharger mounting brackets, a wider drive pulley set, and a more robust 30mm belt. The wider belt is 57% stronger than our previous offering; making the new kit the most reliable and best-performing supercharger on the market! Performance and reliability are what you get with Kraftwerks Performance!
The Kraftwerks Performance Race supercharger system is our all-out no-holds-barred solution for those that live by the mantra "more is always better"! The C38 head unit propels these vehicles to rocket ship status with a blistering 400+ hp* and 270+ lb-ft.* of tire shredding torque. The numbers are enough to get any car enthusiast excited but more impressive than the peak numbers is the linear power curve you get, making your vehicle a blast to drive regardless of where you are in the RPM range! What would you do with two times the power?!
Rotrex C38-81 Supercharger Unit
Ultra High-EfficiencySilent OperationLow Operating TemperaturesSelf Contained Lubrication and Cooling SystemExtremely ReliableCapable of 700 hp
Independent Drive System
Does not share belt with engine accessories for greater reliability if the drive belt breaks, you won't be left strandedAllows for more flexible offset supercharger placement
Toothed Belt System
NEW 30mm wide belt for better load handling capability - 57% StrongerZero slip under the heaviest loads and hardest accelerationLow belt tension eliminates radial load on supercharger nose bearing, thus improving reliability
Offset Supercharger Placement
Allows for greater clearance around belts, thus reducing chances for rubbingAllows for simple and more efficient tubing layoutNo poorly designed, inefficient and goofy-looking custom hoses/tubing into the throttle bodyAllows for a single shot from the 'cold air' intake section of the front bumper
Cold Air Intake
Filter location in front of the radiator in the 'cold air' section, just behind the front bumperMinimum of 20°F cooler intake temperatures than under the hood
Optimized Tubing and Intercooler Layout
2.5" mandrel bent aluminum hot side tubing into intercooler made possible because of newly designed washer bottle (included)3.0" mandrel bent aluminum cold side tubing into throttle body made possible because of independent drive and offset supercharger configuration11-row high-efficiency intercoolerLower intake air temperatures than any other systemIntercooler good up to 460whp
Ease of Installation and Tuning
Simple bolt-on installation. No cutting, drilling, or welding required8 hour installation time (approximate)
2013 - 2016 Scion FR-S (Base, Base)2013 - 2017 Subaru BRZ (Aozora Edition, Base, Limited, Premium, Series.Blue, Series.HyperBlue, Sport-Tech)2017 - 2017 Toyota 86 (Base)
* Horsepower and Torque figures measured at the crank on our in-house SuperFlow engine dyno using E85 and a Skunk2 Racing header.
SHIPS FREE IN THE LOWER 48 STATES!
CALL SHANON AT 507 445 3235 WITH ANY QUESTIONS

.
C

O

N

T

A

C

T

U

S

-

T

H

E

P

R

I

C

E

I

S

N

E

G

O

T

I

A

B

L

E

-

B

E

S

T

O

F

F

E

R
Warning: May cause cancer and reproductive harm.