---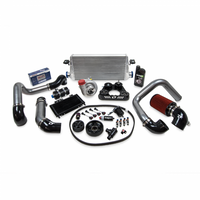 CALL SHANON AT 507 445 3235 WITH ANY QUESTIONS.
150-05-3001

Kraftwerks is pleased to introduce the newly redesigned supercharger system for the 2006-2009 Honda S2000. Centered around the highly efficient Rotrex C38-81 supercharger, the Kraftwerks 2006-2009 Honda S2000 kit produces impressive results throughout the entire power band. And, unlike any other forced induction system, the Kraftwerks supercharger system provides a linear power curve, torque on demand, cooler operating temperatures, and total driveability.

The 2006-2009 S2000 supercharger system provides instant throttle response and a progressive power curve that increases all the way to redline without the typical 'spiking' or 'surging' associated with turbochargers. This unique, more useable power curve results in reduced cylinder pressures, less strain on engine components, and increased reliability. Rotrex superchargers also operate much cooler when compared to turbochargers and other supercharger systems, which reduces the engine's intake air temperature as well as its risk of detonation.

Rotrex superchargers are renowned for their compact size, high adiabatic efficiency, low vibration, and quiet operation. Their unique traction drive technology is what makes all of this possible, which, unlike other superchargers, transmits power through frictional forces between its rolling elements. Each Rotrex unit features its own self-contained oiling system that remains independent of the engine. Its dual-action oil pump supplies traction fluid to the supercharger while the supplied cooler ensures proper fluid temperatures at all times.

Like all Kraftwerks supercharger systems, the 2006-2009 S2000 supercharger system includes all the necessary brackets, electronics, and hardware for a simple bolt-on installation.

Benefits Include:
• 410whp / 280 lbs-ft Torque when paired With Skunk2 header and exhaust (AP2)
• Retain Factory A/C and Accessories

Kit Includes:
• Rotrex C38-81 Supercharger w/ 70mm Pulley (11.2 psi)
• Grams Performance 1,000cc/min. High Impedance Fuel Injectors w/ Plug-and-Play Connectors
• Grams Performance 265lph High Flow Fuel Pump
• FlashPro Engine Management and Upgraded 4 BAR MAP Sensor
• Front Mount Intercooler (27 x 12 x 3 Inch)
• Aluminum Intercooler Piping
• Oil Cooler – for supercharger
• High-Quality CNC-machined Brackets, Idler Pulley, and Tensioner
• High-Quality Fasteners and Hardware
• Recirculating Bypass Valve

2006 - 2009 Honda S2000 (Base, CR, Base, CR)

*Upgraded clutch recommended.
* Must Use Included 4 BAR MAP Sensor
- Two step and rev limiter usage at your own risk, can void warranty.

Recommended belt tension range:
NEW BELT (Hz) Min: 260, Max: 275
USED BELT (Hz) Min: 215, Max: 230
SHIPS FREE IN THE LOWER 48 STATES!
CALL SHANON AT 507 445 3235 WITH ANY QUESTIONS

.
C

O

N

T

A

C

T

U

S

-

T

H

E

P

R

I

C

E

I

S

N

E

G

O

T

I

A

B

L

E

-

B

E

S

T

O

F

F

E

R
Warning: May cause cancer and reproductive harm.