---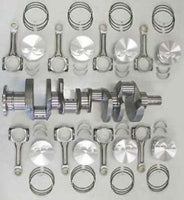 CALL SHANON AT 507 445 3235 WITH ANY QUESTIONS.
This is a SCAT 489/496 BB CHEVY Rotating Assembly and comes complete with 4.250 stroke SCAT 9000 series crankshaft, Forged I-Beam 7/16 cap screw rods, +12cc Forged dome  pistons, Rings, Rod & Main Bearings.
For 2 pc rear main seal blocks.
THIS ASSEMBLY IS INTERNALLY BALANCED
SCAT CRANKS AND RODS ARE SUPERIOR TO EAGLE. WE HAVE USED BOTH IN OUR ENGINES AND SCAT MATERIAL IS STRONGER ALONG WITH SUPERIOR MACHINE WORK .  
Crank Stroke: 4.250
Rod length: 6.385
Pistons: +12cc dome 4.280 BORE For 489 CI
Order 4.310 (.060) Bore pistons for 496 CI. IF YOU DO NOT SPECIFY YOU GET .030.
Compression: 9.8-1 with 112cc heads
                        9.3-1 with 118cc heads
                        8.9-1 with 124cc heads
*20cc= 9.9:1/118cc available apon request. IF YOU DO NOT SPECIFY YOU GET 12CC
Displacement with 4.310 bore pistons is 496 Cubic Inches.
We also stock custom billet steel cranks and do custom pistons. CUSTOM GRIND CAMS IS OUR SPECIALTY TO MATCH YOUR ENGINE COMBINATION!
If you don't see what your looking for - give us a call. We handle the complete Scat line ALONG with most of the other popular brands. We will list on eBay for you.
WE CAN BEAT ANY PRICE ON SCAT
SHIPS IN THE LOWER 48 STATES FOR 83.45
CALL SHANON AT 507 445 3235 WITH ANY QUESTIONS.
CONTACT US THE PRICE IS NEGOTIABLE BEST OFFER
ib50619-1
Warning: May cause cancer and reproductive harm.