---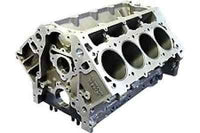 CALL SHANON AT 507 445 3235 WITH ANY QUESTIONS.
086505 BMP WARHAWK LS 9.240 DECK 3.990 ROUGH BORED BILLET STEEL CROSS BOLTED 6 BOLT MAIN ALUMINUM BLOCK
*The block in this listing is not prepped. Requires block parts kit # 703850-K.

GET IT PREPPED!
For the enthusiast who is planning to assemble an engine in their home garage, getting the block in a RACE-PREPPED state is a no-brainer. Our experienced staff performs important basic operations like:

• Deck milling +/- .0025"

• Main journal honing +/- .0004"

• Cylinder bore plate honing .001" oversized +/- .0005"

• Lifter bore honing +/- .0005"

• Block hot tanking

• Cam bearing installation
• Freeze plug installation
• Dowel pin and pipe plug installation
• Block deburring
• Machined surfaces sprayed with rust inhibitor
• Protective wrapping

More and more professional engine builders are also recognizing the benefits of ordering race-prepped blocks instead of endeavoring to perform these many tasks themselves. Many have realized that their time can be better spent doing critical assembly work such as degreeing in camshafts and setting up the valve train. By employing race-prepped World blocks the shop's through-put can be accelerated, and there are demonstrated savings in terms of personnel, shop equipment, space and cash flow. Whether you're an enthusiast or engine builder, save time and money!
*Block prep is an optional service which is temporarily unavailable.

SHIPPING TO A BUSINESS IN THE LOWER 48 STATES WITH MEANS TO UNLOAD IS FREE! ADD 34.00 RESIDENTIAL AND 84.00 LIFT GATE.
CALL SHANON AT 507 445 3235 WITH ANY QUESTIONS.
CONTACT US THE PRICE IS NEGOTIABLE BEST OFFER

Warning: May cause cancer and reproductive harm.